27 Mar 2020 - Config Studio for P3D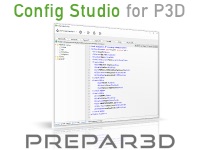 Some years ago we added a little free utility for Prepar3D users called SimSwitch to our Free Tools page, but we are now pleased to offer for sale our very first dedicated Prepar3D product!
Config Studio for P3D is a "Swiss Army Knife" for your Prepar3D config files!
Developers and enthusiasts alike often need to tweak a configuration file to get the sim running just right, or perhaps troubleshoot an FS add-on that might not be loading.
This utility allows you to easily locate, edit, save, backup and restore these important files in a code editor, similar to an IDE (Integrated Development Environment) with syntax highlighting to improve readability of the files.
All editions of Prepar3D (v1 to v5) are supported, these are the files handled by this utility:
Prepar3D.Cfg
Scenery.Cfg
Terrain.Cfg
Cameras.Cfg
Dll.xml
Exe.xml
SimConnect.xml
Check out full details, screenshots and grab the free demo here:
13 Jan 2018 - SimSwitch Utility Updated
We have updated our free SimSwitch utility to support Prepar3D v4. This tool is handy for pointing FSX addons and their installers to the P3D folder.
For some years now Lockheed Martin has recommended our FSX Registry Tool on their Support > Addons page, however SimSwitch is a more simple and easy-to-use utility specifically aimed at helping out P3D users.
Please read the in-app Help tab for details on its purpose and how to use it. Download from the Free Tools page.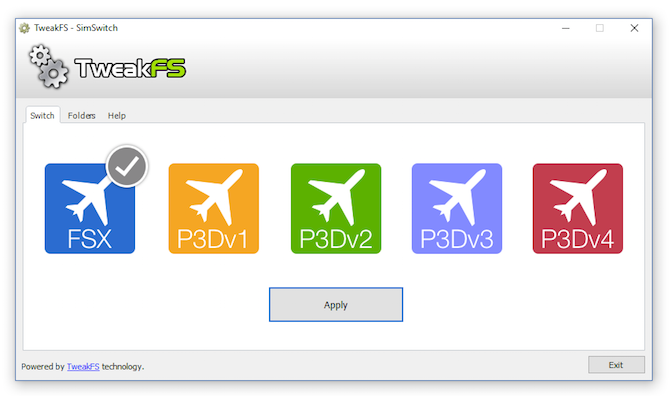 06 Jan 2017 - TweakFS Website Updated
The TweakFS site has just had a fresh lick of paint and some other goodies under the hood to improve the end-user experience. Since everything is still spinning up, if you experience any problem with the site please let us know and we'll get it fixed ASAP.
Thanks for popping by, we hope you like the new layout!